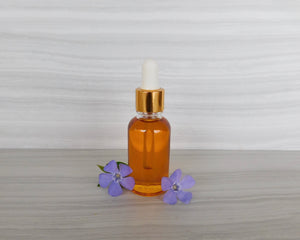 How to Make a Body Oil the Easy Way
The use of plant oils in skincare dates back several millennia.  Their use today has been overshadowed by manufactured creams and lotions.  With consumers turning towards more holistic skincare, interest in their use has regained momentum.  
What can plant oils do for the skin?
​Plant oils contain essential fatty acids that can influence skin physiology by their effects on skin barrier function.  They have the capacity to moisturize skin and bolster the natural lipids in the top layer of the skin.  
Topical application can also prevent water loss, provide anti-inflammatory, and antioxidant benefits.  Finding the best oil combination for your skin may be a bit of trial and error as different plant oils have different fatty acid profiles and effects on the skin.  
How to apply a body oil​
When using a body oil, it works best if applied right out of the shower or bath as it helps to curb water from evaporating from the skin. 
 
Our favorite body oil formula 
This is my favorite formula for a lightweight body oil. You can leave the oil unscented or add your favorite skin safe and non-phototoxic essential oil blend.  
How to make your own
You will need: 
2.5 oz 
grapeseed oil
2 oz 
sesame seed oil
2 oz 
sunflower oil
1.5 oz 
jojoba oil
2 grams 
Vitamin E 
2 grams 
Lavender essential oil
 *
Mixing container
Whisk
Gram scale
8 oz jar for oil 
To Make:
Combine all ingredients in a clean mixing container and whisk together thoroughly.  Pour into your 8 oz container.  Apply to clean damp skin after shower or bath, wait until skin is dry before clothing. 
 
*Consult healthcare provider to see if essential oils are safe for you; especially if pregnant, nursing, or with a chronic health condition.
*Please be sure to check the maximum dermal application for essential or fragrance oils from your supplier.
 ​
Enjoy!
​Jamie
---