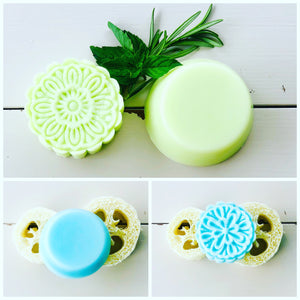 Why pH Matters in Hair Care
One of my top customer FAQs is if they can use our handcrafted soap bars for hair care.  For most hair types, my answer is no.  Soap is for skin not for hair.  Hair care requires a lower pH than a handmade bar of soap can provide. 
Let me explain.
Using Bars as Shampoo
Shampoo bars first came across my radar several years ago.  I found it interesting that people would use a soap bar as shampoo.  So, I began making them using a popular formula from the soap making blogs.  But I was disappointed that the "shampoo bar" began to dry out and damage my fine hair.  
I tried another formula using apple cider vinegar, this time with improvement in the dryness, but still, no cigar.  Not having much luck, I put the idea of formulating shampoo bars on the shelf and went back to following the shampoo bar discussions in the background.   
Discovering ph Differences in Hair Care and Skin Care
In the meantime, I had been studying cosmetic formulating.  I came across some interesting information regarding the importance of pH when it came to hair care products.  Basically (pun intended for the science nerds), hair has an acidic pH and thrives with use of acidic products.  
The high pH of handmade soap (which is fine for skin, not so much for hair) can strip the lipids or fats in hair and damage the cuticle.  Ah ha! This is why handmade soap "shampoo bars" did not work for my hair.
Why pH matters in hair care
I also attended the Hand Crafted Soap and Cosmetic Guild's 2019 conference and sat in on Keri Mixon's presentation on the Objective Comparison of Shampoo Bars.  Again, the importance of pH in shampoo bars was reiterated.  
I located articles in the International Journal of Trichology, (a branch of dermatology that studies the health of the hair and scalp, yes it's a thing) that did not recommend the use of bar soaps for shampoo (Draelos, 2010) and that "alkaline pH may increase the negative electrical charge of the hair fiber surface and… may lead to cuticle damage and fiber breakage."  We don't want this, the cuticle protects the main body of the hair.  Additionally, according to D'Souza & Rahthi  (2015) shampoos should have an acidic pH.
Reformulating Soap Bars into Effective Shampoo Bars for Hair Care
Now that I was geared up with this information, I was ready to reformulate my shampoo bars, using plant derived semi synthetic ingredients.  I am so happy that I did!  
I was able to formulate a shampoo bar that I can use without drying out my hair.  And….. shampoo bars can last a long time, approximately 3 bottles worth of shampoo depending on your hair length and frequency of hair washing. 
In fact, the main reason I decided to revisit making shampoo bars occurred after walking into my daughters' bathroom and seeing 4 large bottles of shampoo and conditioners - they like an assortment.  It really hit home that making a small change could reduce plastic waste. Using concentrated, solid shampoo and conditioner bars eliminates those plastic bottles that comes with liquid shampoo and conditioner.   
Shampoo Bars: Great for the Environment
If you're passionate about low or zero waste products, non-soap shampoo bars may be for you.  Our shampoo bars are formulated with a hair friendly pH and gently clean and soften hair.  We hope you love them as much as we do. 

Live at ease,
​Jamie

 
References:
 
     Barclay, S (2018). Adventures in cosmetic chemistry shampoo bars you will love: Creating pH balanced bars. https://www.swiftcraftymonkey.blog/product/shampoo-bars-you-will-love-creating-ph-balanced-bars/
 
     Draelos ZD (2010). Essentials of hair care often neglected: Hair cleansing. Int J Trichol (2) 24-29.
​
     D'Souza P & Rathi S, (2015). Shampoo and conditioners: What a dermatologist should know? Indian J Dermatol 60 (3) 28-254.
 
     Gavazzoni Dias MR, de Almedia AM, Cecato P, Adriano AR, Pichler J. (2014). The shampoo pH can affect the hair: Myth or Reality? Int J Trichol 6 (3) 95-99.
 
     Mixon, K (2019). Objective Comparison of Shampoo Bars. HSCG Annual Conference. Gaylord Texan Resort & Convention Center. Dallas Texas. May 2019. Lecture.
---