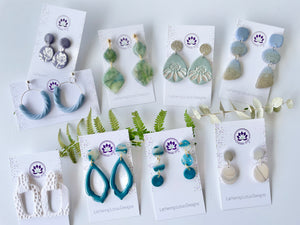 What are Polymer Clay Earrings?
Polymer clay earrings are having a moment right now. This is a type of jewelry constructed from polymer clay which is a synthetic type of clay that is moldable and then baked to allow them to cure or harden for wearing.
There are several reasons that polymer clay earrings are so popular:
Lightweight. You can have larger earrings that weigh and feel like you are wearing next to nothing.
Variety. There are endless ways to design these earrings. They can be created to match any wardrobe item.
Long-lasting. When polymer clay is cured, it is quite strong. This doesn't mean you should throw them in the bottom of your purse, but with regular use, they can last a lifetime.
Affordable. Most polymer clay earrings are reasonably priced so you can buy multiple pairs.
Lathering Lotus has a variety of styles available here. Check out my earring making videos on Instagram @latheringlotus or on @latheringlotus on Tik Tok
---