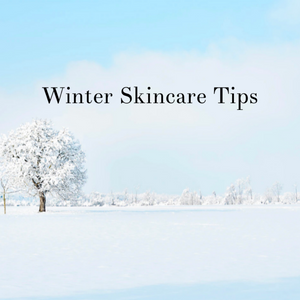 Winter Skincare tips
Winter Skincare tips
Cold air doesn't hold much moisture.  Since there is less in the air, it can be drawn from your skin causing dry, irritated, and itchy winter skin. Having a winter skincare routine can help fortify your skin barrier and renew hydration of your skin.
1.  Although most of us love a hot shower or bath during the winter months, don't linger too long, it can strip the skin of natural oils.  Reduce the temperature and the duration of bathing to avoid losing excessive moisture from your skin barrier.
2.  Pat dry right after exiting the shower or tub and apply a moisturizer.  For super dry skin, apply an occlusive product over the moisturizer such as our Beauty Balm, to seal in the water from the bath and moisturizer. 
3.  Use a glycerin rich body soap for cleansing.  Glycerin is a humectant that draws water to the skin. For those with sensitive skin opt for a fragrance and essential oil free soap such as the Butter Bar Soap or Olive Oil Soap.
4.  Use a gentle cleanser for the face such as our oil -to-milk Botanical Cleansing Oil followed by a facial moisturizer like the Radiance Facial Moisturizer. If your skin is mature or dry, follow the moisturizer with Renew Facial Oil or Overnight Recovery Serum to lock in hydration for plump skin. 
5. Use a body lotion once or twice daily.  The Cocoa Butter & Colloidal Oatmeal Body Lotion is great for itchy skin with the soothing properties of colloidal oatmeal and occlusive benefits of cocoa butter. 
---